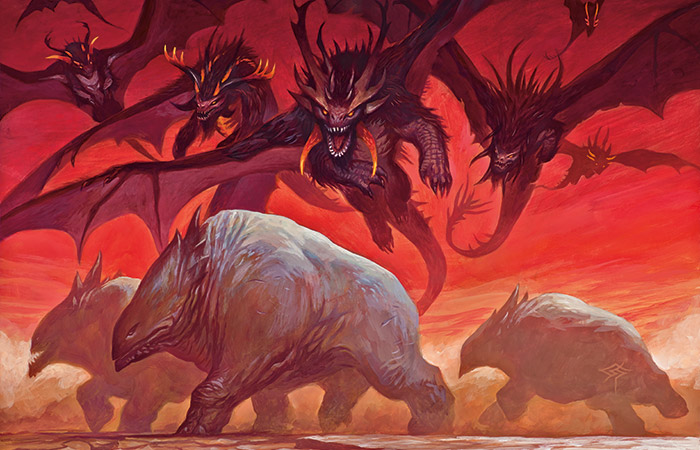 Launch Parties provide you with the opportunity to play with the newest cards in Magic and a second chance at playing with Prerelease Packs. Preregister with us now!
| | | | |
| --- | --- | --- | --- |
| Date | Registration Starts | Launch Party Starts | Entry Fee |
| MAR 27 Fri | 6pm | 7pm | $35 |
| MAR 28 Sat | noon | 1pm | $35 |
| MAR 29 Sun | noon | 1pm | $35 |
Formats
Dragons of Tarkir Launch Party will be Sealed Deck format events, where players are given Prerelease Packs and time to construct a 40-card minimum deck.
Prerelease Packs make deck-building more exciting with the inclusion of specialized, "seeded" booster packs and regular booster packs that let players choose a focus for their deck.
Players who are uncomfortable building a Sealed Deck may participate in Open Dueling instead of the main tournament. Open Dueling players use an Intro Pack to experience the new set.
Prizes
Players get to keep all of the cards opened in their Launch Party Pack or Intro Pack. In addition Launch Party Packs contain a premium foil Launch Party promo to keep. Players who participate in the tournament also have a chance to win additional booster packs of the newest set—an exclusive opportunity to take home even more of the latest cards!
This event is three rounds long (with time allocated for deckbuilding in the beginning), swiss-paired, and has 50 minute rounds.
| | |
| --- | --- |
| Wins | Prizes (# of booster packs) |
| 1 | 1 |
| 2 | 6 |
| 3 | 12 |
Only wins count when determining prizes to be awarded. Losses and draws do not count towards winning prizes.
Rules
Launch Party events focus on fun and enjoying the upcoming Magic expansion, allowing players a chance to experience the newest cards in a fun and stress-free environment. That said, as Sealed Deck tournaments, they follow certain rules for deck construction and play.
Decks must be constructed with a minimum of 40 cards
Decks may only be built using cards opened in the Prerelease Packs assigned at the beginning of the event, and no outside cards may be added.